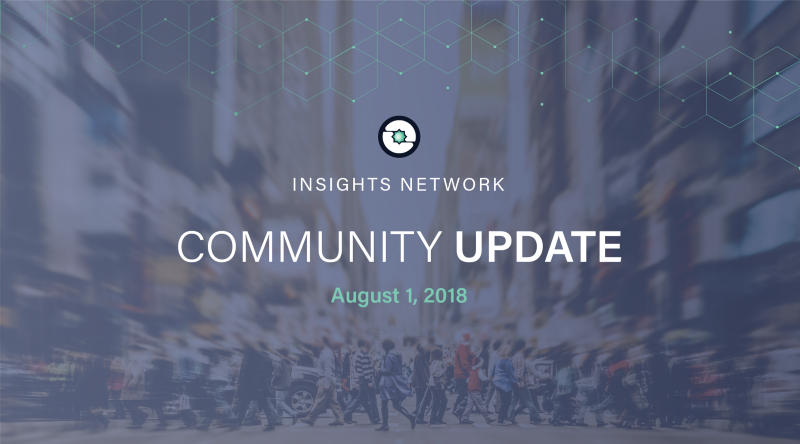 Dear Insights Network Community,
We are thrilled to announce the upcoming launch of the Insights Network Mainnet 1.0 in September. Since February, our team has engaged in a series of engineering sprints to release industry-disrupting privacy protocols and applications.
We released two successful products earlier this year: a web app and a mobile app. The web app enables users to create and publish surveys. The mobile app, available on both Android and iOS, allows users to browse these surveys and submit completed surveys in exchange for INSTAR tokens.
These apps have been well-received. We can proudly share that across our products on both web and mobile, we have grown to over 100,000 registered users who have completed 300,000 transactions including KYC verification, polls and predictions earning 1.2 million INSTAR.
Each week a growing number of users verify their identity and complete data exchange requests which have been created and published by requesters using our dashboard.
Since launching earlier this year we have already received positive feedback from over nine exciting projects using the platform including Open Garden, Signals Network, Layer Protocol, WAX, Everipedia, Swytch, Rivetz and Sustany and First Orion.
INSTAR Mainnet 1.0
INSTAR Mainnet 1.0 will provide a number of features to bring us even closer to our goal of complete decentralization. Beginning next month, we will begin releasing live blockchain and SMC protocols, as well as new apps and updates to the existing applications!
Smart Contract-Facilitated Data Exchange
First, the INSTAR Surveys smart contract will facilitate payment for survey responses.
A secret key will be generated for each eligible respondent to encrypt his or her survey response before submitting it to the contract, which will release tokens to the respondent upon receipt. The surveyor can then decrypt the responses using the provided secret key.
The Insights Network white paper discussed validation of the survey response using secure multiparty computation, which is still a work in progress. In the meantime a robust identity verification system, committed profile values, and fraud detection place reasonable limits on both the pay-out that a dishonest survey respondent could obtain through cheating and the financial loss this would impose on individual surveyors.
Privacy-Preserving Sub-Population Targeting
Many surveys target specific demographic groups, such as teenagers and vegetarians. In such cases, adults and meat-eaters should not be eligible to complete these surveys. This requires sub-population targeting.
But the profiles of individuals in the wider population may contain privacy-sensitive information which should not simply be provided to anyone wanting to run a survey. And individuals may prefer to provide more generic bucket-matching information rather than specific details, e.g. "aged between 20 and 29" rather than "aged 28".
INSTAR Mainnet 1.0 introduces privacy-preserving sub-population targeting using an advanced cryptographic technique called secure two-party computation to allow prospective respondents to prove their eligibility to a surveyor without revealing details of their profiles. As discussed in our white paper, this technique allows data to be used in a computation without disclosing it even to the parties performing the computation.
Committed Profile Values
Another issue is that surveyors desire assurance that respondents have not simply tailored their profiles to fit what are believed to be their inclusion criteria. For example, a dishonest respondent could change his country of residence in order to participate in a geographically restricted survey.
INSTAR Surveys 1.0 features a commitment scheme for profile values. When a consumer sets a profile value such as his country of residence, a commitment value is generated and published to the INSTAR Surveys smart contract. Once a respondent's profile has proven to be eligible for a survey, this eligibility must be shown to be consistent with previous commitment values. In a traditional commitment scheme the profile data would be disclosed for the surveyor to check against previously published data, but INSTAR Surveys 1.0 will feature consistency-checking using a zero-knowledge protocol that avoids disclosure.
DataNode Staking
We are well on our way to fulfilling our goal of providing the highest quality data and feedback available on the open market between verified Insights Network users and requesting parties. During this process, we've already generated 300,000 survey responses. The data being sourced is extremely high quality and at a cost far below the centralized industry market rate.
Today, we're proud to announce a DataNode staking program will be launched to coincide with the "Levels" system currently visible in the app. The final numbers for "Level" rankings will be announced at the launch of the mainnet. Users who either stake a certain amount of tokens, or earn and hold a certain amount, will receive the private data request results received from all Insights Network community token sponsored data requests. Stay tuned for more information regarding DataNodes ;-).
We've learned a lot from our community members who are the earliest adopters of Insights Network. We've learned that 98% of Insights Network community members would be open to holding a set number of INSTAR tokens for greater rewards, 62% believe the price of Bitcoin will be between 7–10k in 30 days, and that tropical and exotic fruits are highly favored!
Below are a few examples of the "Insights" we have already sourced from our community.
Here's a look at some of our most recent results
Application updates and upcoming promotions
In tune with our INSTAR Mainnet 1.0 launch we'll be releasing V2 of our INSTAR Wallet alongside marketing campaigns to attract new users to the platform.
Conclusion
INSTAR Mainnet 1.0 brings a departure from traditional software engineering with the incorporation of decentralized cryptographic technology — secure two-party computation and the blockchain — to provide consumers with secure control over their personal information.
Our team is hard at work and we're very much looking forward to your response following our upcoming releases.
Thank you all for joining us on this exciting journey.
Onwards,
Team Insights
**TOKEN MIGRATION INSTRUCTIONS COMING SOON — NO ACTION NEEDS TO BE TAKEN AT THIS TIME. WE'RE WORKING ON A SEAMLESS PROCESS FOR TOKEN MIGRATION TO TAKE PLACE USING THE INSTAR WALLET AND A PUBLIC KEY PAIRING OF THE ETH ADDRESS HOLDING YOUR INSTAR. YOU WILL NEVER HAVE TO SEND INSTAR ANYWHERE FOR TOKEN MIGRATION. STAY TUNED!**