Interested in creating your own blockchain-based surveys? Get started with our Requester Dashboard in minutes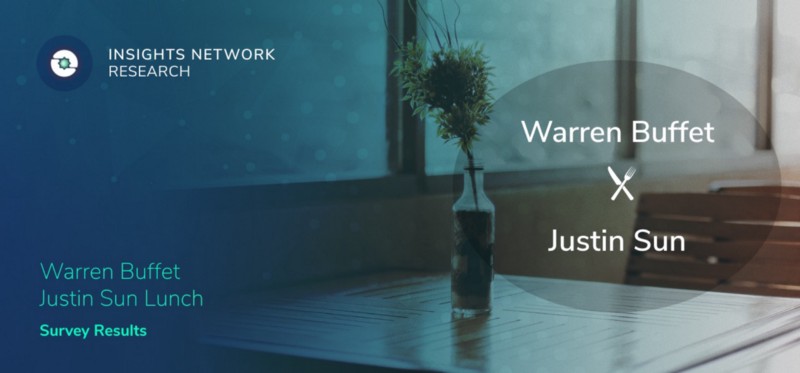 Insights Network is proud to present another survey analysis as we continue to gain momentum in the adoption of our blockchain-based market research technology. With our daily blockchain operations now ahead of cryptocurrencies such as Bitcoin Cash (BCH), Litecoin (LTC) and Nano (NANO) combined, the INSTAR platform is progressing at a hugely significant rate.
The latest survey carried out was easily our most successful yet, outnumbering our previous record with a tremendous response to the questions. The following report examines the recent $4.5 million lunch between TRON maestro Justin Sun and the 'Oracle of Omaha' Warren Buffett.
Key Metrics and Demographics
The results were submitted by a record-setting 4,903 verified participants from 139 countries, and totaling 29,418 unique responses. The numbers were our biggest in comparison to any previous surveys held, and the margin of growth in the statistics are fundamentally proving the progress Insights Network as a project continues to make.
Total number of participants: 4,903
Total number of questions asked: 6
Total number of unique answers: 29.418
Total number of countries participated: 139
Questions Surveyed
The questions surveyed examined a recent hot topic in the crypto industry- Justin Sun winning an auction to have lunch with the legendary investor, Warren Buffett. What was the winning bid- a cool $4.5 million. Regardless of many people's personal feelings concerning the TRON and BitTorrent guru, lunch with one of the cryptocurrencies most prominent personalities in Sun, and one of the world's most foremost voices on investing in Buffett, elicited a massive response within among the masses. It wasn't just the crypto community in which the lunch made headlines; following the announcement, many mainstream outlets also covered the news.
With such a hot response to the auction, Insights Network decided to survey the public and gauge their opinion on a meeting between two titans of their respective industries.
Key Insights
Would the survey participants ever pay $4.5 million for lunch Justin Sun? The results indicate a somewhat mixed response. 22.6% certainly wouldn't, and 2.7% would spend their money elsewhere. 16.3% were massive fans of Sun, and 17.2% possibly would.
Including Warren Buffett, who would those surveyed be most excited to have lunch with? The results unsurprisingly have Warren Buffett and Bill Gates as the two most popular choices with 19.4% and 19.2% with the votes. 5.5% would want to meet US president Donald Trump, and 8.2% would like to meet Binance chief CZ.
Key Insights
The majority of participants agreed that despite the high price, the money was well spent for Justin Sun, 35.2% deciding it's worth the cost to meet a living legend. While a combined 33.1% thought he paid too much. 14.4% were undecided.
In regards to whether the lunch was a positive event for the cryptocurrency industry as a whole, the participants were mostly undecided, 26.3% not sure. 24.5% thought it was great and 17% disagreed, believing Sun would shill his crypto holdings.
If the individuals surveyed were able to spend $4.5 million on a lunch with Warren Buffett, would they? The answers were decidedly mixed. 17.4% chose they definitely would, however, 15.3% said they definitely wouldn't. 19.3% were not sure.
Lastly, the participants were surveyed on any potential TRON/BTT token holdings they may have. The majority, 34.2%, didn't hold either, with 16.8% holding both. 18.6% held TRON tokens, and 12.8% hold BitTorrent tokens.
With the response to the survey being our most significant yet for Insights Network, the road to achieving our objectives of being the pre-eminent data and blockchain-based market research network continues to gain traction. .
We're excited to share more research results, and upcoming product releases with our community as well as a growing audience of early cryptocurrency adopters across the globe. Thanks for reading and your constant support of our journey!
Onwards and more insights,
Team INSTAR
Interested in creating your own blockchain-based surveys? Get started with our Requester Dashboard in minutes.
Looking to earn cryptocurrency for sharing your opinion?
Start your cryptocurrency journey on www.instarwallet.com or join the discussion on telegram!
For further information on the Insights Network, use the following links: