For the past month, we've been privately testing two new paid survey partner network integrations. Today, we're proud to announce the public release of these two partnerships with Market Research Industry Leaders Pollfish and CINT. Insights Network is now linked into both the Pollfish and Cint paid survey networks, directly available in the activities section of INSTARWallet.com — available tomorrow on Android.
Simply go to your activities section and you will see the new requesters, Pollfish and Cint live in the marketplace. Click the link to join their paid survey opportunities. We've had to develop a new smart contract for INSTAR payment when participating in these partner networks — so please note INSTAR reward payment for Pollfish and Cint surveys may be delayed 24–48 hours during the rollout of these partnerships.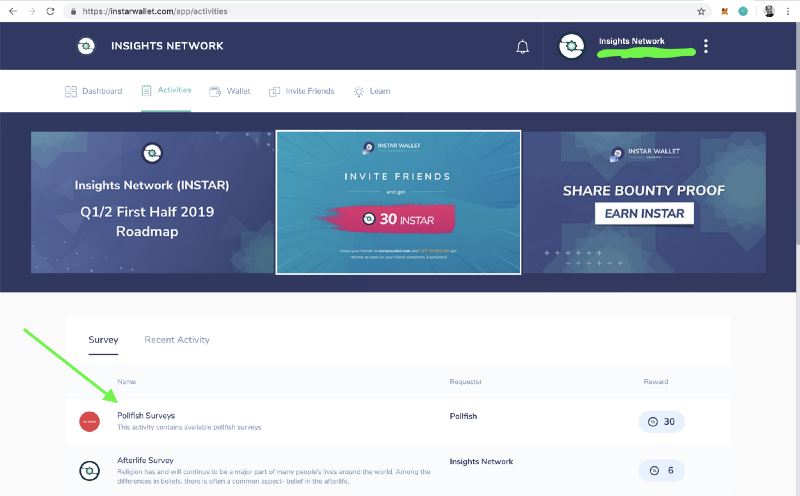 Any demographic data you've committed to your INSTARWallet.com account will not be passed along to the partner networks by Insights Network. If you enter these partner networks, you will need to separately consent to their terms of service and privacy policy + supply demographic information to the partner networks on your own. As an Insights Network user, you do not share your data with anyone without your consent. This is great news for our users as it signals the forward momentum of Insights Network integrating with big Market Research Industry leaders and provides 24/7 INSTAR earning opportunities for every user.
In addition to these integrations, we have a major product update launching next week, the Insights Network Requester Dashboard 2.0, which you can preview in the video below:
The new dashboard features several new question types, a real-time view of what your survey will look like to the user, Object (Image) feedback, and much more. Stay tuned next week for the official public launch of the Insights Network Requester Dashboard v2.0!
If you'd like to reserve your spot to use the new dashboard first please send us an email to [email protected] with the subject "Requester Inquiry".
Onwards,
Team INSTAR