We've updated instars.com DataPools requirements to help more early #ALLINSTAR Community members reach a higher status. Access to Instars Survey Software has been reduced to a fully refundable 1,000 INSTAR stake!
Dear Instars Community,
Today, we're happy to announce reduced Instars DataPools requirements to help more of our earliest Instars Community members reach a higher status!
Stay tuned for a growing number of special benefits for each tier including increased earning opportunities and premium features. For those of you who missed our previous post you can learn more about Instars Data Pools Beta here.
In addition, we've lowered the minimum amount to 1,000 INSTAR staked for unlimited access to Instars Survey Software. This means that survey creators can choose to stake fully refundable collateral whenever they want to use Instars Blockchain Powered Survey Software instead of paying $500 to $1,000+ a year to legacy survey software providers on a recurring basis.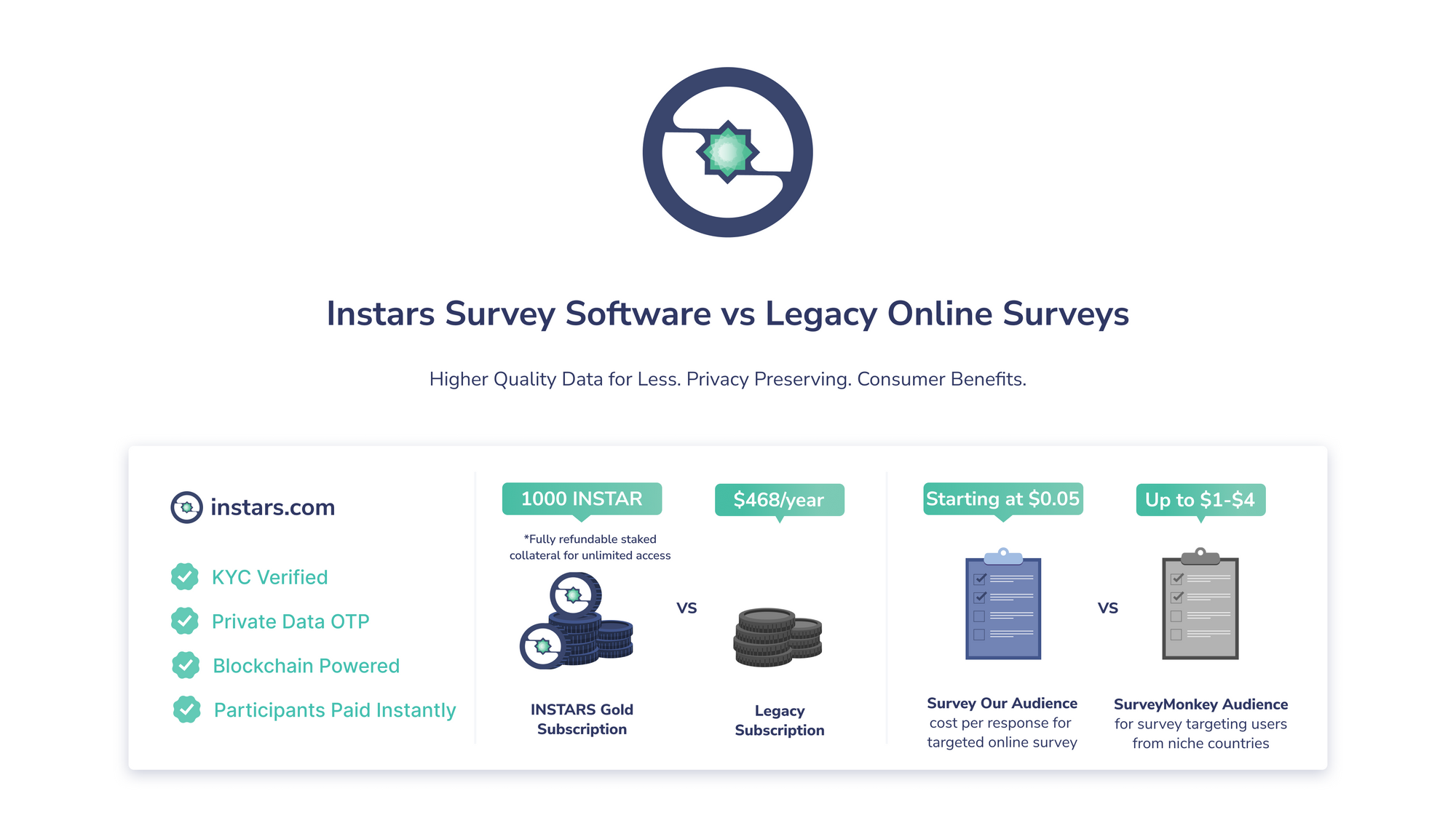 If you're an organization with premium survey software requirements please reach out. Instars Survey Software offers private data with blockchain verifiable results and has the ability to add KYC requirements and cryptocurrency micropayments.
Thanks to All Instar Community members for the continued support. Let's make 2021 a great year!
To the next level,
Team Instars
About INSTAR 💫
INSTAR is the native cryptocurrency that powers the INSTAR Blockchain. In today's crypto world, INSTAR is one of the first and only cryptocurrencies with real world token utility and growing adoption. To date, INSTAR has already been paid out to over 200,000 people across 166 countries for consensual data exchange.
Learn about the growing INSTAR token utility and the best ways to get, use, and store your Instar tokens!
Join Instars Data Pools with dedicated Instars Community members with similar network stakes to increase your earnings and become eligible for exclusive benefits!
Say goodbye to monthly recurring survey software fees. Only Instars delivers blockchain powered surveys with best in class private data, instant payments, and 1.615% APR. Just stake 1,000 INSTAR as fully refundable collateral on instars.com!