Interested in creating your own blockchain-based surveys? Get started with our Requester Dashboard in minutes.
Following the launch of Insights Networks 'Phase 2' development update, a new feature called 'Survey Your Own Panel' was also launched. This feature allows users the ability to create personalized surveys and share them with their own audiences for specific engagement.
With Insight Network's private data and one time pad, only you will be able to access the results. To get started, use the following steps:
Step 1: Sign in to Requester Dashboard
I. Head over to https://requesters.instarwallet.com/auth/login
II. Log in using your InstarWallet account details
III. If no account has been set-up, create a new account by choosing 'Don't have an account?'
Follow the steps and once completed, verify your email address.
Step 2: Select Create Activity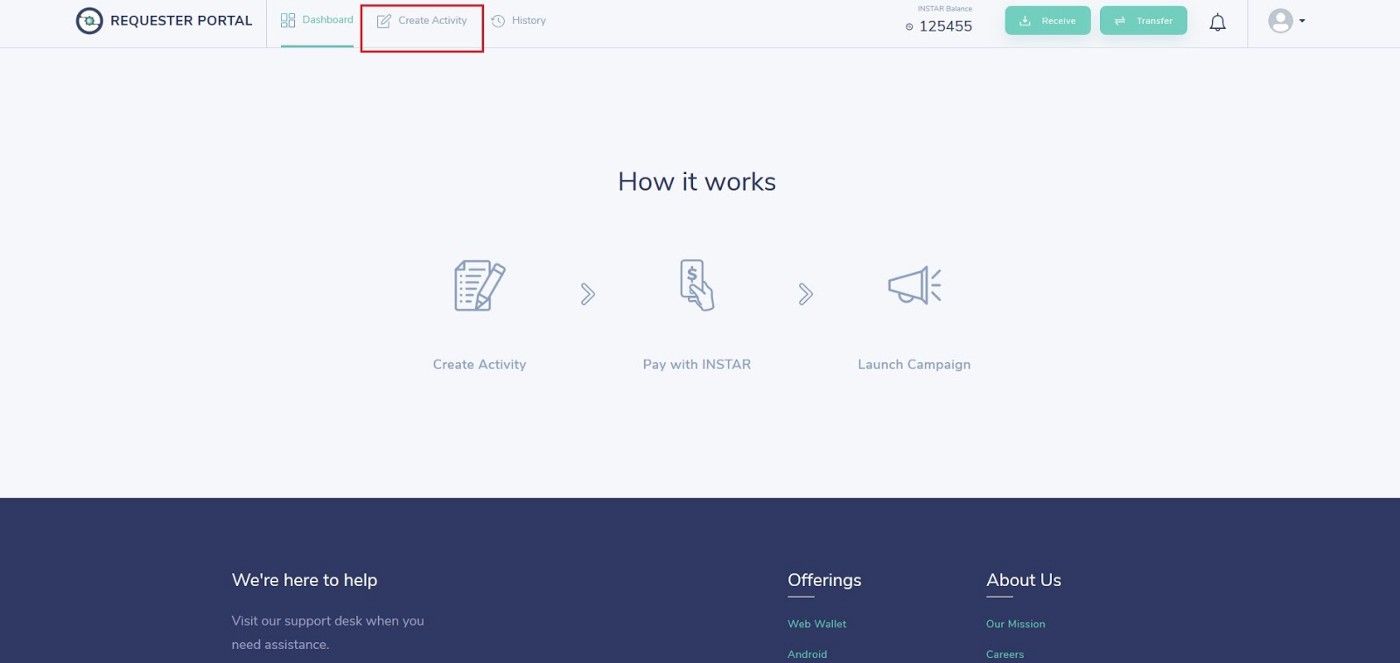 Once logged into your Requester Portal, you will be lead to the dashboard. Click on Create Activity to access the next screen.
Step 3: Choose Survey Your Own Panel
Once you've chosen 'Create Activity' a new page will appear showing a variety of options available for the type survey intended. It will look something like this:
Choose 'Survey Your Own Panel'
Step 3: Create Your Custom Survey
You will now be required to fill in the information relating to the questions to be asked to users. This will include the title, description, questions, and all relevant options. Once you begin to complete, it will look like this:
While selecting questions, the drop-down box will allow you to choose the type of question(s) asked. This can include multiple-choice, short answer, checkbox, and more.
Upon choosing to add more questions and options, a new set of selections will appear, same as the first, where the desired type of question and related answers are required to be completed.
Step 4: Share Your Survey
Once you have completed inputting the number of questions and related options, you will be ready to submit your survey. After completion, choose 'Submit.'
Congratulations! You've been successful in creating your own Survey. Please copy the link generated and share with the relevant audiences you desire.
Step 5: Export Your Private Data
Head over to the history tab and select Export data. Feel free to keep your results private or share them with the community!
Insights Network Requester Portal also allows the option to 'Survey Our Network' in which targeted surveys can be created with the intention of rewarding Insights Network community members with INSTAR.
The options to 'Create Push Alert' and 'Target Ad' are currently in development, and we will introduce the features to the community soon!
We're excited to share more research results and upcoming product releases as soon as they are ready.
Thanks for reading and your constant support of our journey!
Onwards and more insights,
Team INSTAR
Interested in creating your own blockchain-based surveys? Get started with our Requester Dashboard in minutes.
Looking to earn cryptocurrency for sharing your opinion?
Start your cryptocurrency journey on www.instarwallet.com or join the discussion on telegram!
For further information on the Insights Network, use the following links:
Website | Twitter | Telegram | Medium | Reddit | Earn Tokens