Interested in creating your own blockchain-based surveys? Get started with our Requester Dashboard in minutes.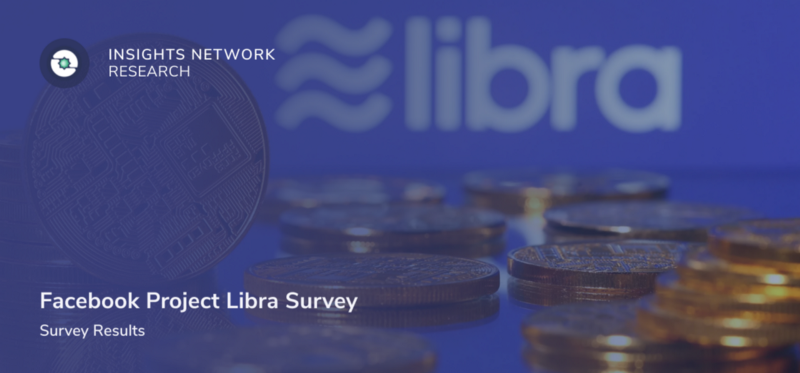 The announcement of Project Libra by Facebook was arguably the biggest news story this year in blockchain and cryptocurrencies; easily among one of the biggest ever in the history of these nascent industries.
Facebook's plans to launch their very own digital cryptocurrency that would be useable for their 2.41 billion active monthly users, was a tremendous advocate for the progression of digital currency platform payment systems, and considerably improved the adoption of cryptocurrencies for the general public and mainstream media.
Following confirmation that Facebook planned on entering the cryptocurrency markets, the news was a catalyst for a massive surge in price for the markets, although recent regulatory issues have dampened the mood somewhat.
https://twitter.com/elerianm/status/1151491270465867779
With such seismic news being released, it only fitted that Insights Network would carry out a survey on Project Libra and gauge the community's thoughts on such significant events.
Key Metrics and Demographics
A total number of 4,781 KYC-verified participants took part in the survey from a new record-setting 166 countries from around the world. There were 23,905 unique responses recorded.
Total number of participants: 4,781
Total number of questions asked: 5
Total number of unique answers: 23,905
Total number of countries participated: 166
Questions Surveyed
While the launch of Project Libra has received great fanfare from the majority of the crypto community, Facebook remains a deeply divisive organization in the eyes of many individuals.
The entrant of a major social media powerhouse such as Facebook into crypto is a cause for celebration, but the company has very recently been mired in constant controversy due to its handling of personal user data, with the US Federal Trade Commission fining Facebook a record $5 billion for its privacy violations.
As such, the five questions were designed to acknowledge the participant's view of not only Project Libra, but as Facebook's entry as a whole.
Key Insights
Straight away, 42.38% made it clear that Project Libra is not a threat to Bitcoin, and BTC will remain the king. 31.60% thought that due to Facebook's number of users, Project Libra would threaten Bitcoin. 13.82% thought it would encourage further Bitcoin adoption, and 11.19% were not sure.
Almost half 49.71%, agreed that it was a good move by Facebook due to increased mainstream adoption, and a further 30.95% thought it was positive due to Facebook's size. 3.97% did not trust Facebook, and 4.18% didn't think many people would use Libra.
Key Insights
35.53% said they would definitely use Facebook's digital currency platform, and 31.39% said it was most likely. 19.11% were not sure, and 7.09% had no trust in Facebook to use its platforms.
The higher number, 37.16% thought Facebook benefits most from the launch of Project Libra, and 24.28% thought Facebook's users were the biggest winners. 10.49% made the choice that the early Bitcoin adopters would benefit most, and Project Libra backers had 9.22% of the vote. Regulators were picked by 7.32% of participants.
Key Insights
In regards to the vital question of whether Project Libra will now lead to further mass adoption of cryptocurrencies, 45.65% believed it was a good start. 32.73% were definitive that more significant companies would now follow. 3.40% said Project Libra will fail and will not lead to mass adoption, while 4.30% said it was unlikely.
Survey Results Evaluation
There appears to be an emphatic answer from the participants in regards to Facebook's Project Libra and their involvement in cryptocurrency- a massive yes. The vast majority believed that this is an excellent advancement for crypto and will hopefully lead to the future adoption of crypto by the masses.
We're excited to share more research results, and upcoming product releases with our community as well as a growing audience of early cryptocurrency adopters across the globe. Thanks for reading and your constant support of our journey!
Onwards and more insights,
Team INSTAR
Interested in creating your own blockchain-based surveys? Get started with our Requester Dashboard in minutes.
Looking to earn cryptocurrency for sharing your opinion?
Start your cryptocurrency journey on www.instarwallet.com or join the discussion on telegram!
For further information on the Insights Network, use the following links: